How To make a DIY dumbbell rack?
DIY dumbbell racks are an excellent way to add strength to your workout. Dumbbells are one of the most efficient free weight exercises you can do for muscle gain. They are relatively easy to get and can be stored in a closet or under a bed until needed. One reason they are so popular is because they take up less space than traditional weights.
How To Make a DIY dumbbell rack? Most people look at a project like this and assume it is way too difficult. Well, if I can do it so can you. In this tutorial, I'll show you how.
So how do you How To make a DIY dumbbell rack?
Lately, just for fun, I've been making things for my home gym – deadlift platform, weight tree, wall mounted weight storage and my favorite project – my dumbbell rack. I've actually built and rebuilt this thing a couple of times. There were some small design flaws in the previous versions, so I've taken what I learned from those and made the perfect rack!
Since 10-50 is the most common dumbbell set, I've measured out enough space for a set of that size. You can make yours bigger or smaller depending on your needs.
This rack took me about 5 hours to build, spread out over a weekend. It's not very complicated, it just takes time to do everything right.
Tools and materials You will need To make a DIY dumbbell rack
Materials needed to make a DIY dumbbell rack
7 – 6ft long 2×4's
2 – 6ft long 1×6's
4 – 6ft long 1×8's
Wood screws
Pocket screws
Wood stain (optional)
1/8" thick birch wood or vinyl (optional)
White spray paint (optional)
Tools needed to make a DIY dumbbell rack
Mitre saw
Cordless drill
Table Router
Random orbit sander
Digital angle finder
Kreg pocket screw jig
Glowforge laser cutter or Cricut vinyl cutter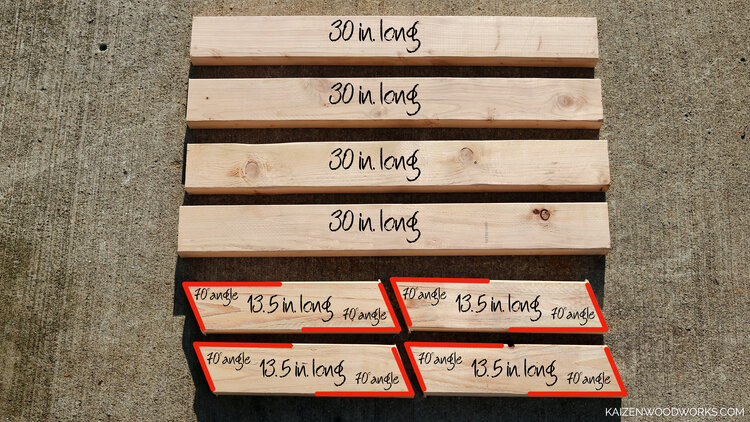 First step: I cut my 2×4's into four 30 inch pieces. Then I cut four 13.5 inch pieces with 70º angles. These will assemble to be the sides of the rack.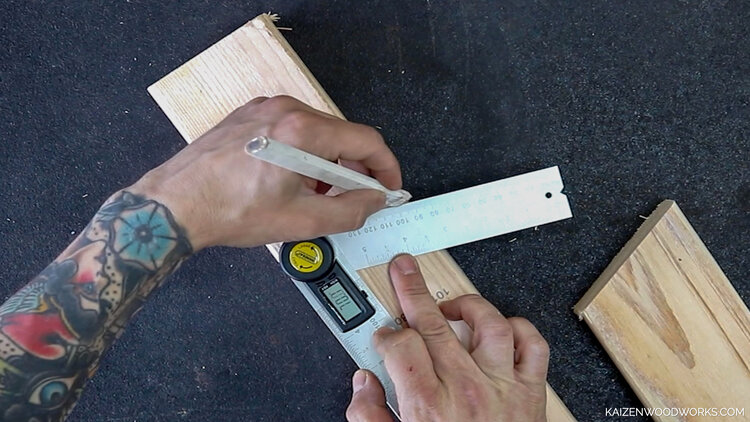 I measure down 6 inches and then mark my 70º angle. This is where I attach my first 13.5 inch shelf support piece.
I don't need to mark anything else before fastening everything together. The lower shelf support piece basically sits on the ground.
When they're done, they should look like mirror images of each other.
Then I cut a couple of 2×4's to 60 inches, this is my width. If you want to go much wider than this, I suggest putting an additional support in the middle (v2 rack build)
Next, I cut a couple more 2×4's to 54", these are the supports that the 1x8s will both be resting on. They'll go roughly in the center of the shelf support pieces, but don't fasten them just yet.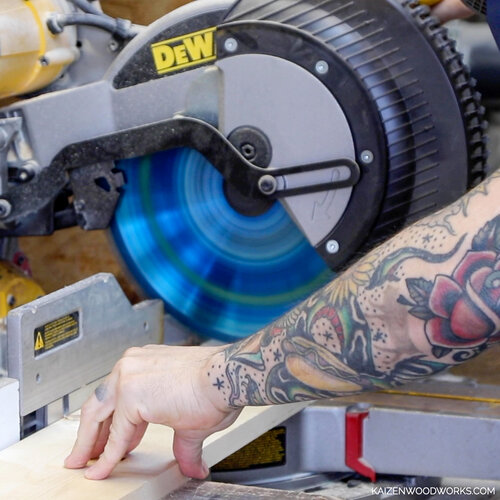 It is time to prep my 1x6s. These are the most visible pieces on the rack, so I made sure to pick out really nice looking pieces. I cut them to 60", hit them with the table router, and sand them.
For the 1x8s, I cut them to 57 inches, drill pocket holes for the front two, and sand the markings off.
The 1x6s attach to the front, bottom of the 1×6 should be flush with the bottom of the 13.5 inch shelf support piece.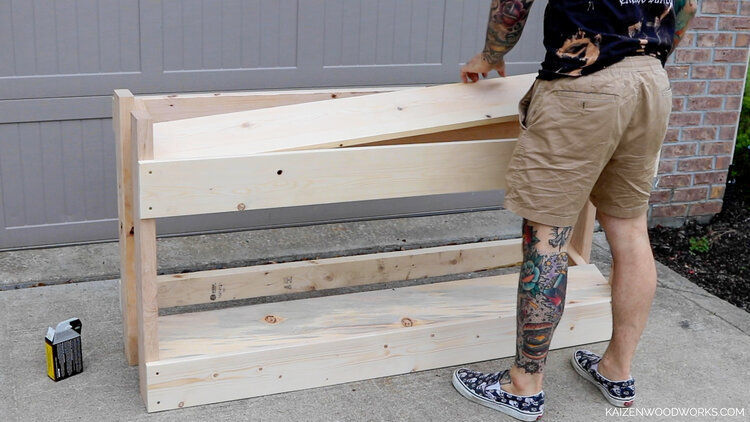 At this point I realize that the 2x4s that go under the 1x8s are about 1/2" off.
I go back and remove the 2x4s, and while they're off I take the opportunity to put the pocket screws into the front 1×8 shelf pieces.
Once those are in place, I put the 2×4 back and just eyeball where it should go. You basically want to make sure it supports both 1x8s that are sitting on top of it.
Once these are back in, I am ready to fasten the 1x8s
For this one, I am using espresso wood stain. It is a nice dark rich brown color and really brings out the wood grain. I flip it over to get the anything visible on the underside. I'm only worried about staining the areas that might be visible, I don't need to stain everything. I let the stain dry for 24 hours
While that dries, I fire up my Glowforge and start cutting some birch wood. If you'd like to do this, the digital cut files are available for free download. I use 1/8" Baltic Birch, but it could just as easily be done with vinyl on a Cricut or even spray paint and stencils. If you want to add these words but don't have the tools or time, I can make them for you. Once the words are cut out, I spray paint them white to provide a contrast with the espresso wood stain.
Once these are cut, I spray paint them white.
I attach these real quick and we are officially done.